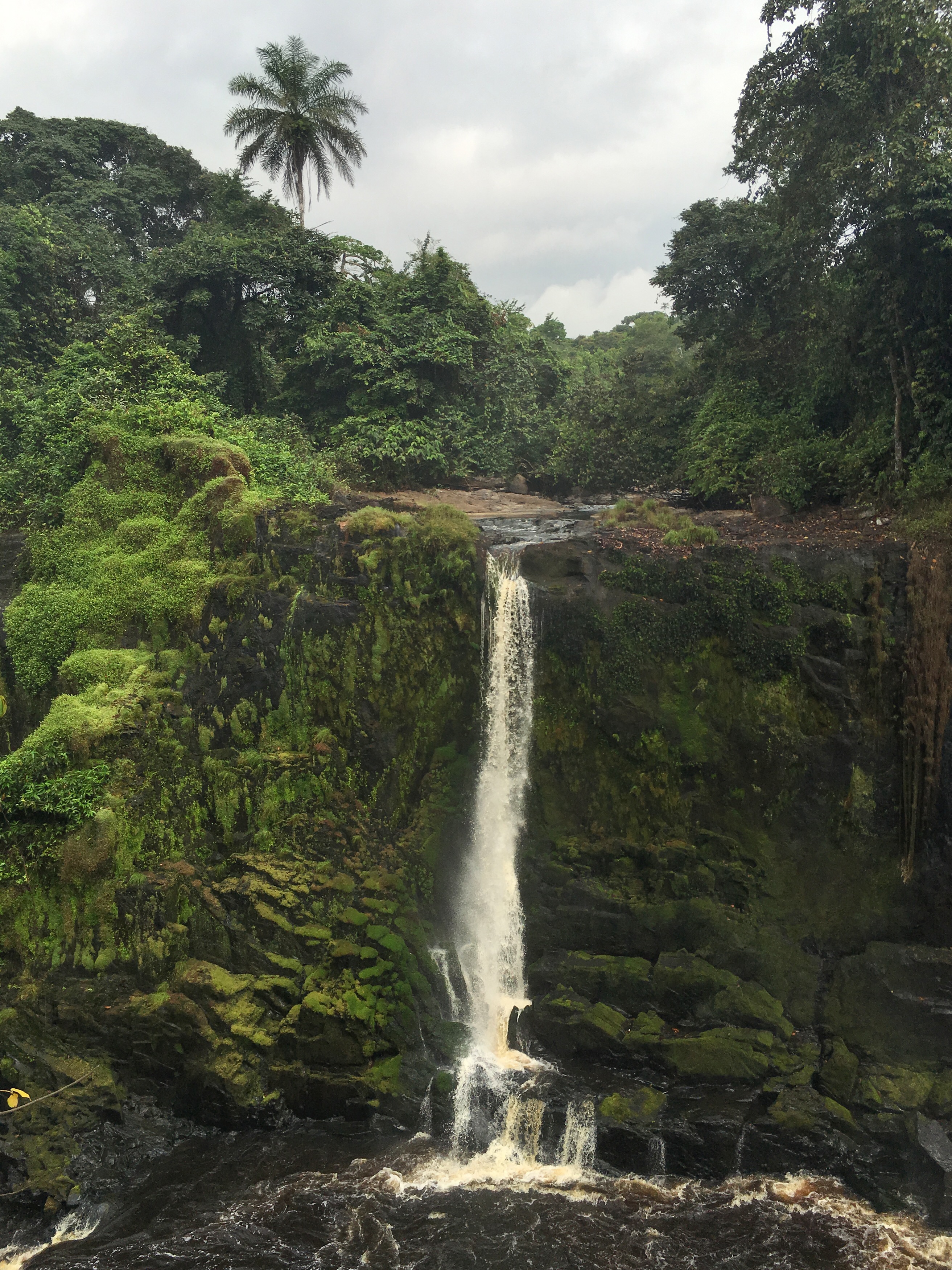 I'm slowly putting together information that may be useful for anybody interested in visiting and traveling in Gabon. It is separated by the location. Please be aware that this information is correct as of late 2016 and may become out of date.
Here's a tourism booklet for southwestern Gabon detailing places you can stay, contact details, and activities you can do in the area: Tourism brochure Gamba Complex_English Dec 14LowRes
Visa
Gabon now has an online application for an E-Visa (for many nationalities, not all):
I believe this only works if you have a contact in the country that can act as your sponsor. This could be a friend, hotel or tour organizer, but you'll need to provide an address and contact phone number that the government office can actually get ahold of them on and they'll have to agree that they can be contacted and will act as your sponsor.
You'll fill in a bunch of your details in online form. In the section on acting upon I never had my friends fill anything in. On the next page you'll have to attach a scan of a passport photo (color, size 35 x 45 mm, make sure the file size is under the limit) and a scan of your passport details page (again make sure file size is under the limit). Once you visa is approved, you print out the form you get emailed and takes it with €85 to the airport in Libreville and gets the visa there. Also you'll need to show proof of yellow fever vaccination in order to get into the country (at the airport).
Travel Agency in Libreville:
Ngonde Tour http://ngondetour.com/ Email:info@ngondetour.com Virginie Indaki/ Paul Mombey virginie@ngondetour.com / pmombey@ngondetour.com Galeries Maxime Montee de Louis Tel: (+241) 06 57 39 66 Mobile: (+241) 04 20 32 87
Flights
There are a few companies that operate flights within Gabon, but most are difficult to book outside of the country; however, Afrijet has a website that allows online booking: https://www.flyafrijet.online/en
Train
Libreville – Franceville (stops also in Lope) Setrag Tel +241 01 708060
1. Libreville (fairly easy to find information and booking resources for, so I'll just list some places I've stayed and would recommend)
–Gabon Boutique.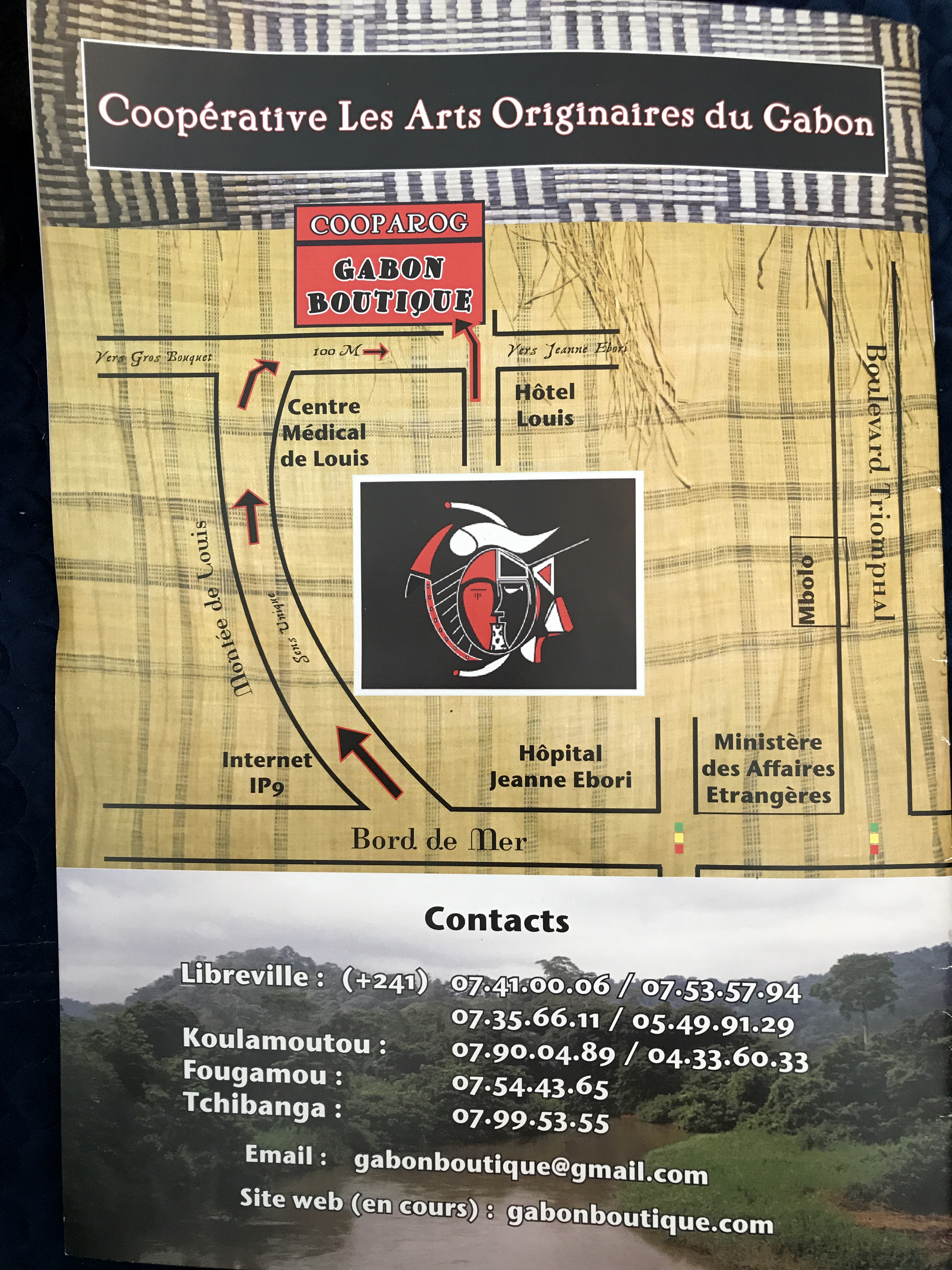 This shop offers the authentic traditional Gabonese art, masks, baskets, jewelry, musical instruments, and more collected from the nine provinces. The shop is open Monday to Saturday, 10 am to 6 pm, in the neighborhood Louis, in Libreville. Much better and more authentic than the large craft market. https://www.gabonboutique.com/homepage/
-Park Inn Hotel (business hotel, but newly built and nice)
-Royal Palm Hotel (splurge)
-Hotel Le Patio (if you're on a tight, it's pretty basic, but good. And it's in a great location in the heart of Louis district)
-Onomo Hotel (north of the airport, not a cheap as Le Patio, but nicer, more modern budget hotel)
-Spa Yacine (Spa, Gym, Pool, Hair Salon): 05307696, 01445145
-Restaurants:
Le bistro – 06444556 & 01731625
Life by Mayena (several different restaurant and a roof top bar) – 07048989
L'Odika – 01736920 & 07267042
Marie qui fait chaud (lobster) – 05321359
Roma – 01441602
most famous/oldest bakery/cafe: Le Pelisson in city center
-Whale watching. Tours are +/- 5 hrs and can be taken morning and afternoon. Mornings are probably better, afternoons are generally choppier. Meeting point is at Michelle Marina (where Hotel l'Alize is):
Arnaud – 07093555
Damien – 07385908
2. Point Dennis (across the bay from Libreville, nice for a day trip or weekend getaway)
– Navette Pointe Denis (public boat service) – 07146856 & 06264077
–Baie des Tortue (beach resort with excellent food). A day trip includes transportation, use of the pool and facilities, and lunch (~$100), which is a bargain compared to staying overnight.+241 03286445 & 07510546 http://labaiedestortues.com/
– Assala Lodge – 03464717
– Assiga Hotel – 03200347
– Private house rental – 05930001
– Jetski & quad rental – 03317466
Nyonie – south of Libreville on the coast, depart from port in Libreville
-Chez Beti – A basic lodge on the edge of the Wonga Wonge reserve. Here you will find a mix of open plains and forest, also good place to see animals. Good option for 2-4 days. Leave port Michel Marine in Libreville at 9am, cross the estuary 1 hour in canoe , then 4×4 to get to the lodge. Capacity 20 bungalows of 4 people. FCFA 120,000 per person the weekend, half-price for children of less than 12 years. +241 07050028 & 07571423
-Campement de Nyonye Tel. 01 753889 Mob. 06 033636
Port Gentil (POG)
-Chez Jimmy (Hotel Restaurant) Qartier Sassec O1- 564396 07- 475489 hotelchezjimmy@begoubitia.com
3. North Loango National Park (we traveled by plane to Port Gentil and then took a boat to Ombooue). From the north of the park you could also visit Omboue, Fernan Vaz Gorilla Sanctuary, and St. Ann Church
-contact for visiting habituated gorillas in Loango: Can be booked through Loango Lodge. Jan Fourie Mob. +241 04 59 57 37 ( Gabon), jannie.fourie@africas-eden.com Costs approximately 200,000 XAF per person
-Loango Lodge – one of the nicest safari lodges you can stay at in Gabon, but also very expensive and a bit run down; however it's a perfect spot for entering Loango park from the north. They have a small airstrip. ~200,000 XAF / person / day
-Liambissi Lodge – more basic, but in beautiful spot along the coast. Also less expensive. ~145,000 XAF /person/night
https://www.tourisme-aventure-gabon.com/lodge-hotel-gabon-liambissi
hotel_le_bougainvillier@yahoo.fr, +241 07 72 14 14
-There are several hotel in Omboue as well:
Hotel Olako: Téléphone : 00241 04 41 20 23 Email : ghischango@hotmail.fr Hotel Olako Brochure www.hotelolako.com
-Gorilla Project Fernan-Vaz www.gorillasgabon.com Tel. 07 725426
4. South Loango National Park (via Gamba and Sette Cama) (have a look at the tourism brochure link at the top of the page for more information)
-Sette Cama Adventure – lovely French couple runs this nice lodge on the edge of Loango National Park. Food is very good. Well known for their sport fishing tours, they also have knowledgeable guides that will take you for excursions into the park
Telephone: +241 04609233, +241 05320606
Email: settecama.aventure@gmail.com
Website: www.sette-cama-aventure.com
-Case Abietu lodge – GIC – local run NGO. Stay at a house in Sette Cama Village where you'll enjoy local cuisine and excellent hikes in the park. Guides are wonderful. Accommodation is good (no AC though), but there was no running water when I went. Much more of a bargain compared to Sette Cama Adventures
Tel (+241) 06899598 or 07339951
gambareservation@yahoo.fr, case.abietu@yahoo.fr, ghislain ibamba <ogallat2000@yahoo.fr>
-Guides that I can recommend for visits/treks to southern Loango (or Gamba area) that are based out of Gamba: Kasa (07359181) or Ziko (07941235). I've been in contact with Zico via email at ogallat2000@yahoo.fr
5. Gamba – small town, but the surrounding area is full of wildlife: elephants, monkeys, crocodiles, chimpanzees, sea turtles, and more
-National Airlines and Afrijet (at least in 2016) fly several times a week to Gamba from Libreville. Cost is approximately 80,000 XAF each way
https://www.flyafrijet.online/en
-Laguna Hotel and Restaurant
https://www.booking.com/hotel/ga/laguna-guest-house.en-gb.html#map_closed
-Visit the Smithsonian Laboratory in Yenzi Camp and view the most extensive collection of specimens in central Africa. (Tell them Andrea sent you), elietobi@gmail.com
6. Moukalaba Doudou National Park (via Tchibanga)
-PROGRAM – a Gabonese non-profit apolitical environmental association that runs the tourism in Moukalaba Doudou. Passionate an well trained guides. http://program.unblog.fr/
There are 2 sites you can stay at in the park. Accommodations in both the Case Madre in Doussala and the Mbani camp are basic (no running water or electricity in either place), but the guides look after you well, and we enjoyed the truly Gabonese meals prepared for us by two local women from Doussala.:
Case Madre on the outskirts of Doussala village in the north east. Excursions possible consist of a combination of forest and savannah walks, a boat trip, and an amazing evening cultural dance/Bwiti performance. With a bit of luck you can see waterbuck (one of the only parts of Gabon where they are found), wild gorillas (that are somewhat used to human presence as they frequent the plantations in the area), elephants, turacos, and monkeys.
Mbani camp which is properly in the middle of park (and accessible by a 3 hour drive from Tchibaga followed by a 45 minute walk to the camp), you can camp out in proper primary rainforest and have the opportunity to see (or at least hear) wild gorillas, chimps, red-river hogs and other forest wildlife.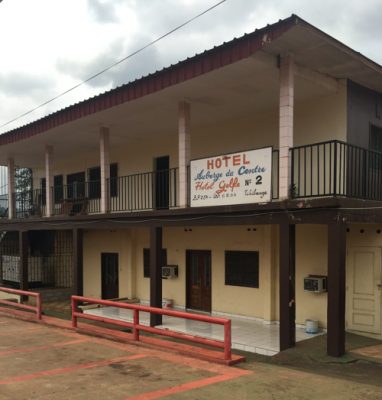 -we have stayed this hotel in Tchibanga several times (I believe it cost us around 30,000 XAF/night, but I can't remember for sure). We never made a reservation in advance, we just booked a room on arrival. Phone number: 01.82.06.76
Hotel Mouila Hotel du Lac Blue Mouila 861464 / 861280 07-137913 03-111293 (Mael)
7. Mayumba/Mayumba National Park
-Mayumba is a small town with nice beaches (supposed to be good for surfing) and a good place to see
humpback whales
from July – September
-Likwale Lodge Rooms are ~36,000/room/night
The cost for meals at the hotel are as follows:
Breakfast is 8000/person
Lunch is 20,000/person
Dinner is 20,000/person
all are served buffet style
Visit Mayumba National Park: contact conservateur Eric Augowet (+241 07 69 30 92) . 5000 XAF/person plus 3000/person for the boat (plus fuel?).
http://www.mayumbanationalpark.com/wildlife-preservation/
8. Lambarene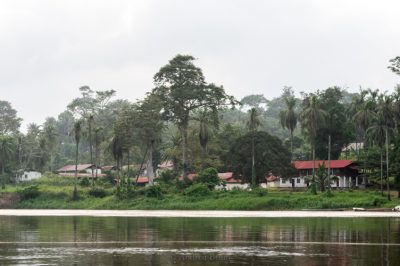 a few hours drive from Libreville. Can see Albert Schweitzer Hospital and Museum. Also visit the town and take a boat tour of the waterways where you will see lots of birds and possibly hippos. There are some lodges near Lambarene in the forest where I believe you can also see traditional bwiti ceremonies.
-Ogooue Palace Hotel – 50,500 XAF/night
-Albert Schweitzer Hospital (also accomodation) Tel. 01 581145 / 07 734910
-OELO (Organisation Ecotouristique du Lac Oguemoué) http://www.facebook.com/TsamTsamGabon. Tel English: +241 07 01 49 01 Tel French: +241 07 28 73 07 Tsam.tsam@rocketmail.com
-Lope Hotel – 65,000 XAF/night
www.lopehotel.com hotellope@yahoo.fr Tel. 01 720596 / 770217 Mob. 07 446811 / 06 333735
-Mikongo Forest Camp – We highly recommend Ghislain and his services! You can book him to take you on excursions/hikes from the hotel (or anywhere else in town) or you can stay at his camp in the middle of the forest. ~ 100,000 XAF/day
ndjibadi@gmail.com
http://mikongo-vision.info/eng%20-%20index.html
10. Ivindo National Park (via Makokou to visit the waterfalls)
-Conservatuer of the park: Dr Joseph Vivien Okouyi Okouyi N.W. Tél:(241)07.90.55.13 / (241)06.07.56.80 Mail: okouyi_joseph@yahoo.fr www.parcsgabon.org ~100,000 XAF / day
-Belinga Palace Hotel – +241 07 62 18 28 – ~20,000 XAF/night – relatively new hotel spacious rooms and air conditioning in the foyer, restaurant and rooms.
11. Lastoursville
we didn't have time to go, but apparently there are caves nearby you can visit http://www.grottes-de-lastoursville.org/
-Mulundu Hotel Tel. 01 – 733156
-Ngoombi Club Tel. 01 – 640061
Assiami is a very small town without much to see, but in the edge of the town is the only grape vineyard in Gabon, producing Vin du Gabon. The former president wanted to produce wine, so they've done a lot of research into what grape varieties grow best in the tropical climate. The wine isn't great, but it's a fun experience and the caretaker was very friendly and let us camp in the vineyards
12. Leconi (Canyons and Leconi Park)
Poubara – Cross the hand made vine bridge and see a waterfall
Park Hotel: 48,000 XAF/person/day (includes meals and activities)
Hotel KoulaMoutou Hotel Residence Paul Ndama (45,000 CFA) Koula Moutou Tel 07760120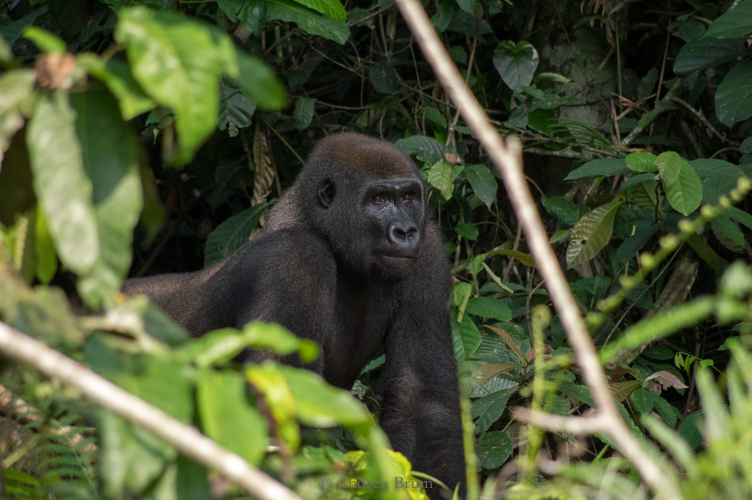 or you can contact me at andrea.m.brum@gmail.com