Teun and I spontaneously decided to go to Point Pedras beach one Sunday afternoon, so after loading up the car with some snacks and drinks we hit the road. It takes about 30-45 minutes (depending on how fast your drive down the laterite and sand tracks) to get there and it was already about 3:30 when we made the decision to go so we didn't think to invite anybody else that day. Just after turning off the laterite path and on to the sand track I noticed something running across an opening between the trees ahead of us. It looked quite large, but I didn't say anything to Teun at first because I thought it was probably just a monkey (hahaha just a monkey, they're so common place around here 😉 ). A minute later we both spotted a smaller primate running through the same area and we looked at each other and started discussing what it could be… a monkey? a gorilla? a chimpanzee? All are possible here. He sped forward towards the opening and just as we came through we saw a large ape-like animals running through the savannah towards the next group of trees a couple hundred meter in front of us.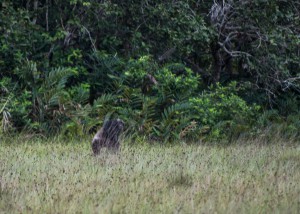 I raised my camera through the open window of the car and started trying to snap some pictures of our mystery creature. It was definitely too big to be a monkey! As it reached the edge of the trees it quickly climbed into one of the trees and turned back towards us. It was checking us out too!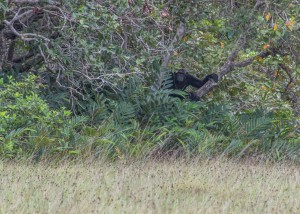 He must have sat in the tree for a good 5 minutes just staring back at us and occasionally glancing away toward the far end of the forest. This also gave us time to finally identify our mystery animal, it was a chimpanzee! I assume there must have been a family group and this was the alpha male making sure his family was safely concealed before taking off. Soon he climbed out of the tree and took off himself. What an amazing siting!!!
We then continued on our way to the beach and had a nice time walking along the edge along the edge of water with Eva (our puppy) and then having some drinks and snacks under the shade of the palm trees. A little before 6 we decided to pack up and head home as the sun would be setting soon and we would rather not negotiate the sand tracks through the jungle in the dark. At almost the same exact place that we have stopped the car to watch the chimp Teun drove through what looked like a shallow stream of water (normal here during the rainy season) and it ended up not being so shallow.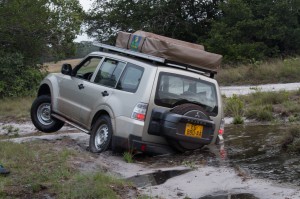 The front of the car made it through thanks to the momentum, but the back end wasn't so lucky.We were stuck. After a few failed attempts to try get out of the rather deep pool of water that were only digging us in deeper (the back bumper was now completely under water) we knew we were going to have to call someone to help us.I dialed the first person I thought would be able to get to us quickly, our friend Anne, who was actually borrowing out other friend's (Ann) car.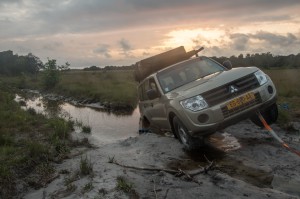 Luckily she picked up and said she would come as quickly as possible, which was good as the sun was about to set. About 30 minutes later we saw our rescue (Ann and Sarah) coming down the road. In just a matter of minutes we had attached the tow rope between the two cars and we were free! We all headed back to Yenzi and invited the girls over for dinner as thank you for saving us!