One of the things we were excited to do in Gabon is camping, that's why we bought a rooftent! A rooftent is a fairly unknown concept for most Americans/Europeans but in Africa is a fairly common sight. Just a big pack on top of the car that folds open into a nice spacious tent! One of the biggest advantages is that you sleep off the ground. So less likely for nightly visitors to surprise you: snakes, or other critters. But also being off the ground gives some safety for wandering elephants or hippos.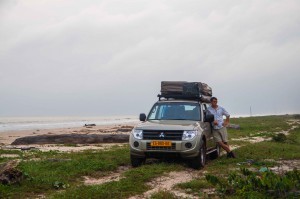 Once the roofrack was assembled and mounted and the rooftent fixed on, it was time to give it a try. Helped by a long weekend off we headed to the beach. First night was spent at Ponte Dick (Dick's bridge) and a second night at Jardin d'elephants (elephant garden).
Driving onto the beach of Ponte Dick we were welcomed by a group of 4 elephants! One  was a bit more daring than the rest so we kept hoping they would go into the ocean. Unfortunately no surfing elephants…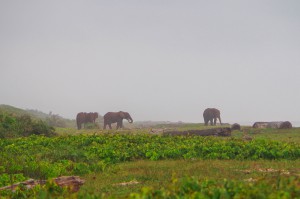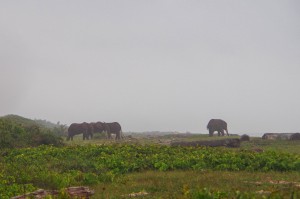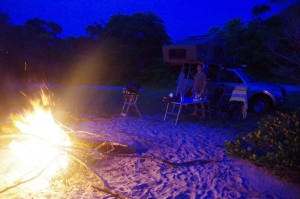 An important part of camping is collecting wood. Not only nice and fun to have a fire going for marshmallows, but also a necessity in order to keep the wild animals away; elephants, hippo's, monkeys and big cats… so as soon as you arrive you start collecting wood…..the resulting flames provide a night of entertainment;  sit around it, stare at the flames, or look at the starry nights which is amazing due to the lack of light pollution all accompanied by the soothing sound of  waves crashing on the beach.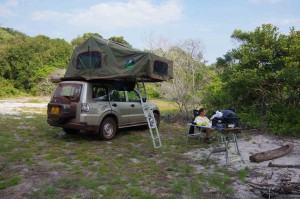 As mentioned, the second night was spend at Jardin d'elephants, elephant garden. This raises the expectations to see some more of these magnificent creatures. Once we arrived we looked for a nice spot to set up our camp and started to look for wood. the view onto the beach was amazing and we had it all to ourselves. Having this to yourselves is fairly common in this very low densely populated area.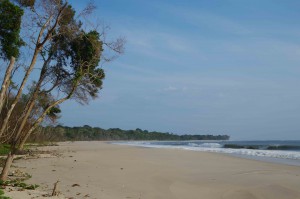 You already feel bummed and the place overcrowded if you show up and there are 2 other people there….guess Scheveningen beach will be a different experience from now on…
During the night we heard a thunderstorm and the flashes were amazing, slowly but surely it moved towards us and eventually stopped. At 4AM we noticed a light drizzle but expected some heavier rain later, as it was rainy season. When we set up our tent earlier that day, we decided not to put on the rain sheet…..so that was something we did…. at 4AM……a light drizzle, worry for elephants/wildlife (fire died because of the rain) dark and ow…because it was our first time out we did not have experience with this….luckily we managed within 10 minutes and enjoyed our dry tent while at 6AM the rain came!
The next morning we woke up and enjoyed our stroll around the beach. A bit disappointed, it was elephants garden and our campsite was surrounded by elephant dung but we didn't see any, but happy with our rooftent we left for a new adventure!